5 Maxi looks that transcend Summers
Hi guys and hope you all are having a splendid week.
Today is all about a #OOTD look I have put together for a day out. Whether it's at the movies or the beach, this has to be my favourite!  Any guesses ? Well let me give you a hint, this one is a big hit during the summer season, yes you guessed it right,  I'm referring to the maxi dress. As a fan of relaxed, flowing resort wear, I decided to draw some inspiration from my Maxi Mermaid Dress (that's what I like calling it) to put this post together. Oh and as an added bonus,  I have also shared 5 different looks worn by different Celebrities below which are easy to replicate. So keep reading till the end.
What I love about the Maxi is its versatility and ease to style. They can be worn for a night out with your party shoes or worn over a crop t-shirt and teamed with boots for a whole grungy, untamed look. The free flowing nature just makes it more fun and easy to carry this throw on dress.  
Here I'm wearing an embroidered maxi by Atmosphere, if you see it closely you will notice a white floral embroidery all over the dress that adds to its charm and creates this very fairy tale like visual.  The slit on both sides is my personal favourite here… Makes it even more apt for the summer, doesn't it?
For this look I've worn tassel white earrings with a little Indian pearl embellishment. A little fun with hippie style accessories always is a good idea. The tassel detail on earrings has become a big trend all over. You can definitely opt for hoops, danglers or simply chunky colorful earrings of a contrasting color that is very bohemian.
The great part about the Maxi is that you can play with colors, accessories and style them to your liking. For instance, I love to keep my toes free and for this look I opted for white gladiator sandals I had picked from Westside, which has a decent sandal collection. You can also team a maxi with boots for a more country style, or a pair of converse to keep it casual.
Maxis are considered to be worn during the summer, so how can you make the MAXI work all year around? Well it's not very difficult. I've put together 5 celebrity inspired looks that can be easily replicated with minor tweaks and all this at a negligible cost.
The IMAGES shared below are only for reference and take from different sites as listed at the end of this article as under 'reference links' heading
Layer it  like Jessica Alba
So not all of you are experiencing a warm climate like it is in Goa, The climate requires a lot of layering up and added accessories. Thus you can layer up with maybe a cardigan or a jacket to help keep you warm as seen on Hollywood Star – Jessica Alba 
https://in.pinterest.com/pin/520658406900085547/
Suit Up like Mila or Vanessa
If you don't mind wearing your Maxi dress to work, then pair your solid colored Maxi dress & a contrasting color or striped long shrug. You can also add a belt as an added accessory with block heels or flats like Mila Kunis in the image below
I love the way she has opted for contrast in the accessories with this pop blue piece and white coat.
Classic Like Vanessa
Also see Vanessa Hudgens wearing an olive green Maxi and a long beige overall / jacket – a perfect combination for the Fall Season. Leather ankle boots and tinted sunglasses to complete this entire look. So wear this perfect look for a casual day out , shopping or attending a game under the sun, and you'll be just fine, clearly turning heads around!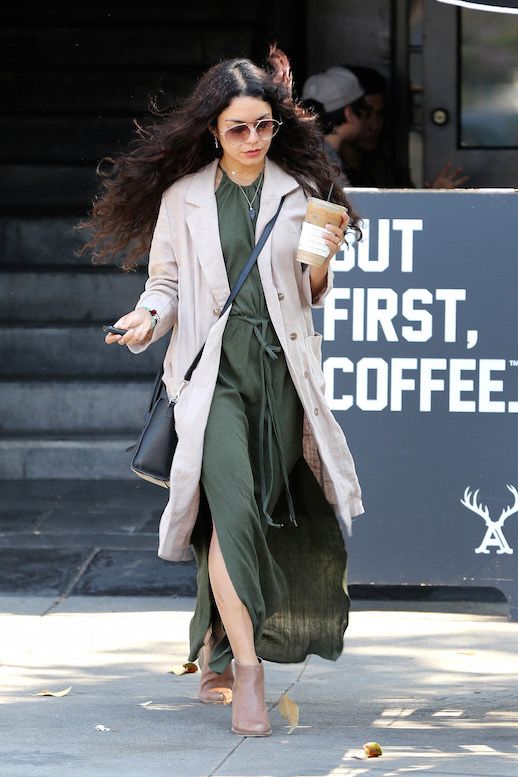 Scarf on like Olivia Palermo
A simple and sleek way to upgrade your Maxi, is by doing a few things right. Add a simple scarf like celebrity – Olivia Palermo wearing a maxi with a scarf  tucked below her belt and teamed the outfit with black heel sandals for a comfortable formal look. I'd pull this one to a work lunch or an art exhibition.
https://in.pinterest.com/pin/143059725639651931/
Keep it cool like Miss Wilde
Why do you have to fit in when you can stand out, right? Check out this look by Olivia Wilde. I just love the way she has pulled off this simple look with no fuss. It's so simple, a printed maxi dress, block color shirt in a contrasting color, matching converse shoes and you are ready for the movies or that bowling game with friends.
https://in.pinterest.com/pin/277182552044972482/
So guys I hope today's post has been inspirational enough to go with your gut feeling rather than just follow a trend. Do tell me what you would like to read about in my next blog post in the comment box at the end of this article.
Also do follow me on:
Facebook | Instagram | Twitter | Roposo
Follow my blog with Bloglovin
PHOTO CREDITS: Rahul Prabhu
Reference links:
http://www.dailymail.co.uk/tvshowbiz/article-3276549/Jessica-Alba-wears-floral-maxi-dress-edgy-leather-jacket-runs-errands-LA.html
http://www.justjared.com/photo-gallery/2674592/mila-kunis-iced-coffee-07/
http://www.lefashion.com/2016/05/celebrity-style-vanessa-hudgens-in.html
https://www.vogue.com/article/olivia-palermo-fall-scarf-dressing-celebrity-style
http://www.instyle.com/fashion/street-style/olivia-wilde-growing-baby-bump-converses